MultiCycle AV OCX Software Features:
Analyzes up to 3 cycling populations simultaneously and an apoptotic peak
Automatically detects the number of cycling populations
Interpretation of the reliability of the S-phase calculation
Automatically applies six different cell cycle model variations to determine which is the best fit for your data
Special algorithm for analyzing cell cycles arrested in S-phase
Exports all results in Excel spread sheet format
Exports a high resolution graphic for publications purposes
Reads in list mode or histogram data from all commercial flow and image cytometers
Phoenix Flow and Denovo Software have released a version of MultiCycle AV that runs inside of FCS Express software. FCS Express is the premier list mode analysis software for flow cytometry data. All of the powerful features of FCS Express List mode analysis software are combined with the MultiCycle AV DNA analysis software engine. Click this link to go to the Denovo Software web site and download a trial version of FCS Express. Then install the demo version of the MultiCycle AV OCX into FCS Express to harness the power of both programs simultaneously.
Once the MultiCycle AV OCX plug in is installed in FCS Express, a button appears on the menu bar which starts the MultiCycle AV engine.

In addition, once a data file is selected for analysis, a second tool bar allows easy access to all the features of MultiCycle AV
All of the results from a cell cycle analysis by MultiCycle AV can be displayed and arranged on the layout of FCS Express, allowing the creating of clinical DNA reports.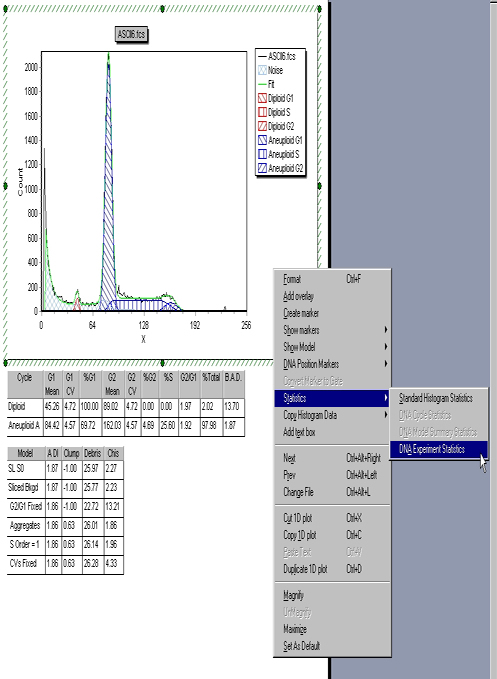 A bit of flow cytometry history. Before Windows, there was an operating system called DOS. MultiCycle AV originally started as a DOS program many years ago, when Phoenix Flow first started selling the software. After a few years, Phoenix Flow released MultiPlus. This software was a DOS based list mode analysis program that was able to do dual parameter, 3D, histogram subtraction, histogram overlay and cell cycle analysis. Flow people loved this program. But alas, Phoenix Flow never was able to come up with a good Windows version of MultiPlus. Some of you may remember ListView, our Windows attempt. Well finally after all these years, we have something we think is better than any other Windows or Apple list mode analysis software available today. That is FCS Express combined with the MultiCycle AV OCX plug-in.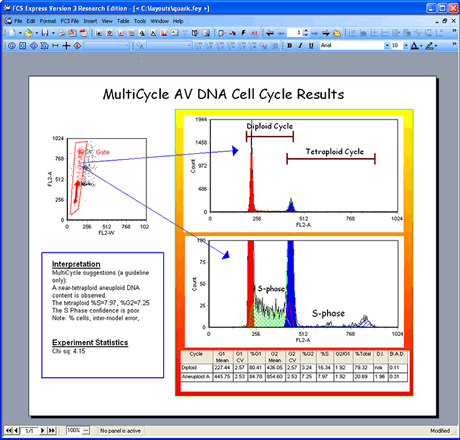 A Few FCS Express Software Features:
To Install a demo of this software do the following:
Download and Install a Demo of FCS Express
Download and Install a Demo of MultiCycle AV OCX